You will probably never hear someone say: "Yes! Grain-free summer salad!"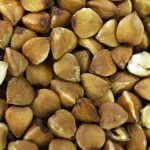 Well, this salad does not taste grain-free.  It's main ingredient is even deceiving.  The ingredient I'm speaking of is buckwheat.  Now wait a minute, I just said grain-free.  Yes, that is correct.  Buckwheat is grain-free.  It is a plant that grows groats that sort of taste like a grain but it's not a grain at all.  And its (dare I say it) good for you!
If you like guacamole, you will LOVE this recipe.

Buckwheat Avocado Salad
Ingredients
1 cup water
1/2 cup buckwheat groats
1 small avocado, diced
5 cherry or grape tomatoes, halved
1 lime, juiced
2 T. scallion, thinly sliced
1 jalapeño pepper, diced
2 T. cilantro, chopped
Salt and pepper
Preparation
Combine water and buckwheat in a saucepan.
Bring to a boil, then reduce heat to medium and cover.
Simmer until buckwheat is firm yet tender (al dente), about 8 minutes.
Drain and rinse under cold water.
Gently stir together avocado, tomatoes, lime juice, scallion, jalapeño, cilantro, salt and pepper, making sure it is evenly combined.
Add buckwheat groats and stir gently.
Chill and serve.
Please follow and like us: